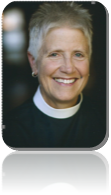 Pastor Sandy Johnson
Bridge Pastor for Mt. Zion Lutheran Church
InGod is always doing something new and when we look back over the course of our lives, we recognize that very thing. As I anticipate serving alongside the saints of Mt. Zion, I see another way God is bringing renewal to us. And with that I want to take a moment to introduce myself. We'll likely discover that we have a number of things in common.
I am blessed to have two sons who live near Osceola. Benjamin and Nicole have three children; Connor (13) Bella (9) and Willa Hope (2 ½). Dane and Sarah have two children; Leyla (9) and Jackson (7). Blessings abound as Jed and I watch them learn and grow.
I was born and raised in Rice Lake, the fourth of five daughters. My father was a business owner and my mother was a homemaker, involved in our church and the community. After graduation from high school I attended business school and moved to North Idaho to begin a career as a freelance court reporter, living and working there for about three years. Upon returning to Wisconsin I continued in that vocation.
I took a new direction when I returned to college as a non-traditional student and received my master's degree in Elementary Education. I taught in the Osceola school district for a number of years before leaving public education to serve as the Christian Education Director at Peace Lutheran in Dresser. That position was a stepping stone to seminary. I attended Luther from 2003-2007 and was ordained at Peace in June of 2007. My first call was in Price County where, for four years, I served two congregations, First Lutheran in Prentice and Zion Lutheran in Brantwood. I took a call to HOPE Lutheran in River Falls in the spring of 2011.
Throughout this journey I have had God's guidance. And I have had the care and love of my amazingly supportive husband Jed Reiten. I have much for which I am grateful. I look forward to what God has in store for Mt. Zion, as the weeks and months unfold, and we get to know each other as we walk together in the process of finding Mt. Zion a new pastor.