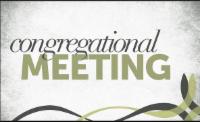 We will hold a
congregational meeting
Sunday, July 19 at 10:30am
via Zoom to approve the sale of the townhome, 22 Hope Circle, that was so generously gifted to our congregation.
The meeting will be held electronically for the safety of all members.
Please either follow the Zoom link below to join the meeting via video chat, or call
1-312-626-6799
(from any phone -- land line or cell phone) and when prompted, enter the meeting ID number and pound sign,
876 7136
297
5#.
Meeting ID: 876 7136 2975.
____________________________________________________________
Due to the Covid-19 coronavirus pandemic,
Mt. Zion's building is closed and all in-person activities are postponed until further notice.

We encourage you to join us for live online worship Sundays at 9:00 am on Facebook.
We will post the worship videos and written resources under
We also encourage you to continue generously supporting our ministries with your financial gifts. Options for giving are listed under
Thank you for your continued support and flexibility during this unprecedented time. May the peace of Christ which surpasses all understanding be with you all.
Pastor Carolyn Staats
when office is closed and you are in need of Pastoral Care,
please call (715) 396-1465.
If you are in need any support services, please call 211.
Here we stand…in the freely-given gift of Christ…compelled to reach out into the world.
Meet Mt. Zion Lutheran Staff
Come to the About Us section to meet the staff and clergy,
find contact information and find out what we're all about!