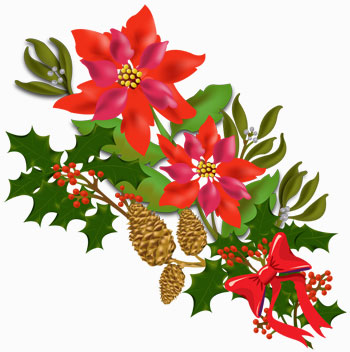 During October, Mt. Zion traditionally has its Christmas Flower Sale jointly sponsored through Gertens'.
This year, we are offering Poinsettias in 6.5" and 8.5" pots and Cyclamens in 6.5" pots.
Deadline for ordering is NOON on Sunday, October 16, 2017.
The plants are scheduled to arrive at Mt. Zion on Saturday, December 9, so those ordered for home use only may be picked up the morning of Sunday, December 10.
Those plants designated for church use may be taken home after Christmas Eve services.
Money generated by the plant sale this year will be used to purchase decorations for the Commons.
FUNDRAISER FOR LILLIE
Meet Lillie!
Hi! My name is Lillie Deborah Prawalsky!
I am 4 years old ..…. but almost 5!
I live with my mom, my dad, my big sister Kaitlyn and our pet chinchilla Zoomer.
I like to paint and do Minecraft with my dad.
I really enjoy playing with Monster High dolls and American Girl dolls too!
I love to be in the water whether it is at the beach or in the bath tub at home.
My favorite color is aqua. I like this color because it is so light and pretty.
My favorite animal is a giraffe because I like their long necks and how they eat!
My mom & dad say my best qualities are that I am really goofy and determined!
This Fall I start preschool! I am so excited!
I got a Palace Pets backpack for school!
As you can see, I am a pretty special girl (and I am pretty cute too)!
Oh! I forgot to mention, I also have Cystic Fibrosis.
I have Cystic Fibrosis but IT does not have ME!!
Please help support Lillie & her family with medical expenses.
A benefit for Lillie will be held at the Bayport BBQ on 10/18/17 from 5pm -7pm.
Dinner tickets are $10 each. A silent auction & bake sale
will also be held. Donations are accepted & appreciated.
Checks can be made to: Lillie Prawalsky Fund.
An account for Lillie has been set up at the Westconsin Credit Union. To purchase tickets or for questions please see Angie Adams, Pastor Erin or contact the church office
at (715) 386-5409
Let's Link Together For Lillie