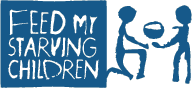 Feed My Starving Children - Saturday, November 18
11:30a-1:30p
We have reserved 35 spots for our NOVEMBER 18 Outing

The outings are geared towards (but not limited to)
4th - 12th Grade Confirmation Students/Mentors/Parents/Friends.
Please contact the church office to sign up
(715) 386-5409 or secretary@mtzionhudson.com
Twice a year Mt Zion adults, youth and children travel together to Eagan MN to pack meals for the hungry at Feed My Starving Children. This service organization provides food during disasters, drought and famine around the world.
Mt Zion goes the Saturday before Palm Sunday and in November when Mt. Zion celebrated Feeding Christ's People.
All are welcome to join us.