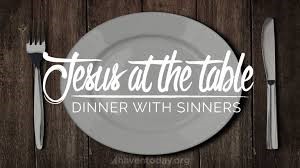 DINNER GROUPS FOR ADULTS & FAMILIES
NOW IS THE TIME TO SIGN UP FOR:
Three options. Choose the option that works for you.
Sinners' Dinners (Potlucks in homes)
6-8 adults are put in a group, choosing a time that works for all.

People take turns hosting.

Hosts provide the main meal, beverages, and sometimes bread/potatoes.

Other group members bring a dish to share: appetizer, dessert, or salad.

Keep it simple.
Disciple Dining--eating out
4-6 adults are grouped together.

Members take turns choosing a restaurant for a monthly meal.

Each participant pays for his/her own meal.
Family Dinner Group (Since 2017!)
(For families with children of any age)
Monthly or every other month

Get together at members' homes or at church.

Share a meal--everyone brings something to share. OR e

ach family could bring their own picnic lunch.

Do whatever works for your group--make it simple--just get together!
For more information or to sign up for any of the above groups, please contact Judy Meincke.
Call the church office at (715) 386-5409 for contact information
Please sign up on or before September 1, 2018.